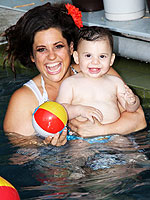 MAXA/Landov
After a whirlwind surrogate pregnancy during her stint on Dancing With the Stars, followed by the juggling act of first-time motherhood while hosting Dance Your Ass Off, Marissa Jaret Winokur has finally found the perfect solution to spending uninterrupted time with her 13-month-old son Zev Isaac.
"I love going in the pool with him where no one can call me," she reveals.
"I can't answer the cell phone, and I can't get an e-mail. It's really, really good private time where nothing can get in my way of just being alone with him. There's nothing too important — because when you're in the pool you have to give 100% attention."
Much like she discovered the secret to quality mother-son time together, Marissa and her husband Judah Miller are still learning the ropes of parenthood. However, while still considered relatively new parents, the 36-year-old laughs she struggles to recall her life before baby! "I don't remember what I did after 6:00, ever. I'm like, 'What did I do?'" she muses.
"'Because he goes to sleep, and I'm home with him asleep, and I'm like, 'What did I used to do then?' I don't remember what it was like."
Source: OK!
– Anya