TLC's Chilli on Dating As a Single Mom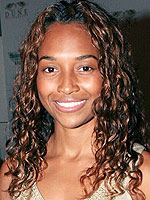 Lisa Wagner/Splash News Online
As she prepares to embark on what is becoming increasingly-common territory — a reality television dating show — former TLC member Rozonda 'Chilli' Thomas says that her 12-year-old son Tron will be first and foremost in her mind as she settles on a suitor.
"I would never get serious with anyone who had a problem with kids," the 38-year-old songstress tells Essence. "I don't like when women are dating and they present every guy they are dating as a boyfriend around the kids."
Instead, Chilli says that she uses restraint. She adds,
"When you are a great mom, it's hard to not bring someone you are dating around your kid, but you don't display affection in front of them. "This is mommy's friend," and that's so your kids aren't confused and develop bad habits."
Tron is Chilli's son with ex-boyfriend Dallas Austin. Her reality show will debut on VH1 this fall.
Source: Essence
— Missy