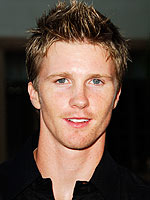 Michael Germana/SSI Photo /Landov
That his son Thaddeus Rowe is just 22-months-old hasn't stopped The Young and The Restless star Thad Luckinbill from looking down the road to the days when he'll wear his bad cop hat. Although it isn't a role he relishes, the actor says it's important nonetheless.
"I grew up with kids whose parents were their best friends, so they didn't have boundaries or learn to compromise," Thad recalls in the Sept. 15 issue of Soap Opera Digest, "and I think children need to understand consequences."
"Rowe isn't at that age where we've really had to discipline him because he doesn't understand quite yet when he's doing something wrong.  I think it will be soon when we'll have to put our foot down."
Adding that "when he gets older, I'll probably become more of a disciplinarian," Thad, 34, goes on to concede that "right now I'm pretty soft." Case in point? He adds,
"When he cries, I have to pick him up."
Rowe is Thad's son with wife and co-star Amelia Heinle. The couple are currently expecting their second child together, a girl.
Source: Soap Opera Digest, Sept. 15 issue
– Missy