Zac Brown Welcomes Daughter Georgia Sloan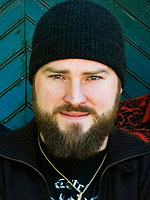 C. Taylor Crothers
News of his four Country Music Association nominations Wednesday morning left singer Zac Brown "elated, excited, amazed," he told PEOPLE, but the evening held an even bigger, better surprise: the birth of his third daughter.
Zac and his wife, Shelly, welcomed Georgia Sloan Brown at 11:50 p.m. Wednesday, his rep confirms to PEOPLE exclusively. Baby Georgia, who weighed in at 8 lbs., 9 oz, joins older sisters Lucy, 16 months, and Justice, 2 ½.
"September ninth was a day of many blessings for the Brown family," the rep said in a statement.
The Atlanta-based country singer, whose CMA nods were his first, spoke with PEOPLE Wednesday as he and his wife were on their way to the doctor, soon after he had learned of the CMA news via text message.
The Zac Brown Band received nominations for new artist, vocal group, and single and song of the year for "Chicken Fried," a tune Zac co-wrote celebrating "the simple things in life that we sometimes forget" — like fried chicken, sweet tea and, appropriately, as the song says, "the touch of a precious child."
The couple announced the pregnancy in February.
— Eileen Finan