Larry Birkhead: A Self-Proclaimed 'Corny,' 'Sensible' Dad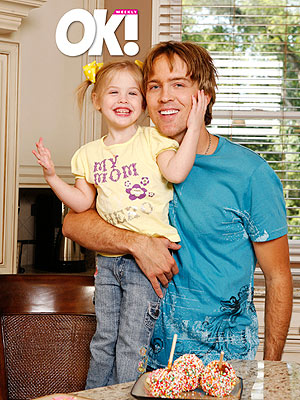 Courtesy OK! Weekly
The manner in which he became a single dad might have been unconventional, but Larry Birkhead is doing all he can to give 3-year-old Dannielynn Hope as normal a childhood as possible.
To that end, the daddy-daughter duo recently moved into their new home in Kentucky, far from the prying eyes of the paparazzi.
"I just want her to be a kid and not worry about all the nasty things going on in this world," he explains. "I'm her shield and that's how it will always be."
When asked by OK! if he loves fatherhood, Larry replied in the affirmative, noting that although "it's hard work and time-consuming…it's worth it when I hear her laugh."
"All my friends are out in bars, but I don't miss it. In fact, I'm morphing into my parents — I've become corny and sensible."
Although Dannielynn is growing up without mom Anna Nicole Smith, Larry says that the late model and reality television star is far from a stranger in their daughter's life. The two could be twins, according to Larry.
"It just happened in the last year," he notes. "I have photos where they look exactly the same…She loves posing for the camera like Anna, too. And she's going to be tall like her mommy."
Speaking of photos, Larry says he keeps Anna's on display throughout their home and Dannielynn, as a result, "recognizes [Anna] straight away."
"She knows who her mom is — I make sure of that…I want to keep her mom and [her late brother] Daniel [Wayne Smith] in her mind."
At the same time, Dannielynn has begun to question Anna Nicole's absence from her life and Larry, 36, admits he doesn't always have the answers. "She misses her mom so much," he concedes. "Right now she's at the age where she's noticing that other children [on] television and in books have moms."
"She said to me the other day quite seriously, 'Where's my mom?' It was sad but I explained to her, 'Your mommy is in the clouds and you'll see her again one day.'"
Click below to learn about Larry and Dannielynn's birthday party plans.

Larry and Dannielynn are firmly focused on the future, and at the moment there is nothing bigger on their horizon than Dannielynn's third birthday party. Admitting that he has at times gone overboard with his daughter's fêtes, Larry nonetheless doesn't appear to be altering his approach. "She's at the age where she appreciates it now and she's excited," he says. "Her birthday is a happy occasion."
Calling his daughter "such a great kid," Larry says that the good times might be coming to an abrupt end, however!
"I've been warning her that she has to give up her bottle when she turns 3, so we'll see how that goes."
Source: OK!
Click here to see more images from the photoshoot.
— Missy