Sparrow James Midnight: Behind the Richie-Madden's Name Choice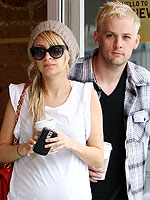 RIV/Fame
With many readers expressing their opinions on Joel Madden and Nicole Richie's choice of Sparrow James Midnight for their newborn son, we spoke to Linda Rosenkrantz, co-owner of NameBerry, as well as co-author of Beyond Ava & Aiden, to get her professional take on the moniker. She tells us,
"After Nicole and Joel gave their daughter the inventive name Harlow Winter Kate, there was much anticipation about what they would come up with for their second child — and they didn't disappoint with their new son's name, the equally unusual Sparrow James Midnight.

The two names have a perfect almost twin-like symmetry, one being ultra-feminine and the other very masculine. Sparrow has in the past been used for girls, but since the dynamically male appearance of Johnny Depp's Captain Jack Sparrow in Pirates of the Caribbean, it's taken on a swashbuckling pirate persona — while Harlow projects Old Hollywood feminissima glamour.

Both have traditional middle names — James and Kate — as well as a second dramatic, time-related name, with the darkness of Midnight contrasting with the whiteness of Winter. (They also reflect the growing trend for double middle names.)

But symmetry can go too far, and if there's one problem it's that Harlow and Sparrow might be overly similar in sound and spelling, making it seem a bit like an outdated twin pairing.

Sparrow also reflects the growing popularity of bird names — along with other nature names — both with celebrities and others. Past favorites like Robin and Raven have been supplanted by fresher choices such as the soft, feminine, free-flying Lark, Wren, Teal, Dove and Starling.

Some celebrities have gone generic with Birdie (used by Busy Philipps and Maura West), Avis (Daniel Baldwin) and countless Avas, as well as the Spanish-for-dove Paloma (Ana Ortiz, David Caruso, and middle name of Salma Hayek's Valentina), and the mythical Phoenix, used by Melanie Brown."
What do you think of nature names? Would/did you use one for your child?