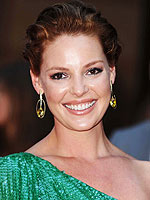 Alpha/Landov
The question of whether or not to have children is one that most couples will tackle early on in their relationship, but for Katherine Heigl and Josh Kelley "the talk" took on a decidedly non-traditional tone.
In an appearance on The Ellen DeGeneres Show airing Friday, the 30-year-old Grey's Anatomy star said that she first broached the topic of adoption with Josh before the couple were even engaged.
Noting that her sister Meg Heigl is Korean and that adopting from Korea was something she "always knew" she wanted to do, Katherine says that making her intentions "really clear" to her paramour was key. "Not everybody is down with that," she notes. "Not everybody thinks that."
"I just wanted to make sure that I was marrying a guy who understands that this was going to have to happen."
Happen, indeed! The couple will welcome their first child — a 9 ½-month-old daughter named Naleigh — "real, real soon" after initiating her adoption "about a year ago," according to Katherine. "The process is intense," she notes, citing a 40-page questionnaire which covered everything from their upbringings to their respective parenting philosophies. "These are very valid questions," Katherine points out. "You think about some of these things. You talk about some of these things but you don't really get into the mix of it until you're looking at these questions going, 'Oh my God we better answer these right otherwise they won't give us the baby."
"It's different, but it isn't. It's just as intense I'm sure to have a baby biologically because you're going through the whole physical sort of thing of it."
Naleigh — named "after my mother and sister Nancy, Leigh" — was able to be adopted on an expedited basis because she has special needs. "They wanted to get her to us as quickly as possible," Katherine says, explaining that the timing played a role in her decision to break the news. "I wanted to tell everybody so you don't think I stole a Korean baby!" she laughs.
And although they haven't met yet, mother and baby already have at least one thing in common — a birth sign! "She was actually born the day before me in November which I thought was really serendipitous and just kind of like a sign," Katherine notes. "I realized just recently that I basically forfeited my birthday for the rest of my life."
Source: The Ellen DeGeneres Show
– Missy