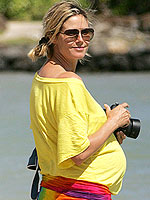 Splash News Online
Following suit with other celebrity parents who have declared that the baby factory has been closed down, Heidi Klum is equally as determined that her fourth child — a girl due in mid-October — will be her last addition to her family with husband Seal.
While the Victoria's Secret Angel notes that the day-to-day balancing act of raising three children has been tough, she tells Ryan Seacrest that the benefit of having her kids close in age outweighs the challenges.
"They kind of run in all different places at the same time so you only have so many hands, so it's quite exhausting, but it's a lot of fun. It's great for them to grow up all together…it's never boring in our house."
That house, Heidi recently revealed, is one filled with plenty of clues that the kids have left their mark, with toys and stuffed animals strewn throughout the place. According to the expectant mama, ensuring her children are given as normal a childhood as possible despite their parents' celebrity status has been the plan since the start. "We try to make [sure] they grow up with … our manners and [what] we believe in and the way we grew up," she says.
Keeping them grounded, she explains, is easily done with frequent family vacations that often include the grandparents.
"We're very family oriented. We just came back last night from our holiday, we were in Hawaii. Their grandparents came — my mom and dad. We're kind of normal in that way…we're very family people."
Baby-on-the-way will join Leni, 5, Henry, 4 this week, and Johan, 2 ½.
Source: On-Air With Ryan Seacrest
– Anya