Nicole Sullivan: Dash is 'Obsessed' With Lakers Jersey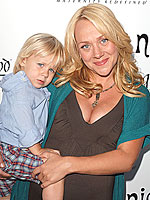 Milton Ventura/Celebrity Photo
Learning when to choose your battles is key to peaceful coexistence with a toddler, and for Nicole Sullivan and 2-year-old Dashel Pierce, the biggest battle of all is often waged first thing in the morning. When asked by Cookie magazine to identify her biggest frazzled mom moment, the 39-year-old actress replied,
"Every day when I'm getting him dressed and trying to convince him to wear something other than his Lakers jersey. He's obsessed."
What's more — when asked about husband Jason Packham — Nicole joked that the issue which divides them most is whether "[Dash] should wear something besides his Lakers jersey." All joking aside, the question of what to wear seems downright trivial when compared to the very real health issue which keeps Nicole awake at night — Dash's "severe peanut allergy."
"I think about different ways I can send him to school in the future with a cool holster for his EpiPen. I'm just constantly thinking about ways to keep him safe."
Having recently welcomed new baby Beckett Edward, 10 days, Nicole has likely temporarily suspended her favorite family ritual of "date night" with Dash every Thursday at a local restaurant. "We eat pasta and laugh," she shares. The good times have continued unabated at home, however; In the interview, conducted shortly before Beckett's arrival, Nicole described a typical Saturday morning for the then-family-of-three.
"Daddy and Dash make pancakes as we all dance to hip-hop in the kitchen. And they laugh at Mommy because she's very pregnant and looks silly dancing."
Noting that Dash "looks just like me and acts just like my husband," Nicole added, "There's good and bad to both those things." The couple — married since 2006 — also share the role of disciplinarian. "We both understand that it takes a little of [good cop and bad cop]," she notes. "We split the roles, but sometimes my husband busts me for spoiling."
Source: Cookie
— Missy