Katherine Heigl and Josh Kelley Adopting a Baby Girl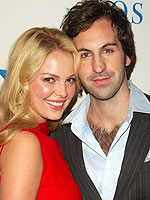 Lisa Rose/JPI
Grey's Anatomy star Katherine Heigl and her husband, singer/songwriter Josh Kelley, are adopting a baby girl from Korea, her rep confirms. The actress, 30, will officially announce the news on Friday's Ellen DeGeneres Show.
RadarOnline.com was first to report the news.
Katherine has been open about the couple's plans to adopt, citing her sister Meg — who was adopted from Korea herself — as an inspiration.
"It's definitely something we've talked about and want to do. I want to honor her and her part in my life. I think adoption is a hugely important thing."
Source: PEOPLE