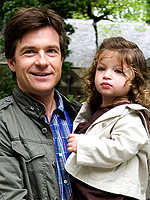 Antonie Brzostoski/INF
During a humorous appearance last week on Late Night with Jimmy Fallon, actor Jason Bateman spoke of a recent errand run with Francesca 'Frannie' Nora, 2 ½, gone horribly awry.
The daddy-daughter duo were on their way to the local FedEx when Frannie fell asleep in the back seat. "The car…it's kind of like a rolling sleeping pill, like an Ambien with tires," Jason noted. "I turn around, and she's sawing logs in the back seat; Peaceful, beautiful, little bit of cute drool." It soon became apparent that a difficult decision needed to be made! Jason explained,
"You don't want to wake the monster up. When the monsters sleeping you let the monster lie."
With the drop box in sight, the 40-year-old Arrested Development star made his move. "I rolled down all four windows and I popped the sunroof. I got out of the car, I set the alarm, [because] no one is going to steal my cargo," he recalled, "I took the motion sensor off so that the alarm wouldn't wake her up and give her a fright. I scurry into the FedEx, top speed, I see my slot, I pop my thing in there, quick!"
That's when disaster struck, however — in the form of a long-lost friend Jason hadn't seen in 20 years. "He's like, 'Jason! What's going on?' He takes a relaxed position, like we're going to talk for 20 minutes," Jason said. "I try to do-si-do to get to my car…It's got to be 95, 98 degrees outside." As the newly reunited pals played catch-up, talk inevitably turned to wives and children.
"I said, 'You've got three kids now right?' He says 'Yeah, you've got one too, right? Are you with her?' I said she's in the car. He said, 'Oh great, I can meet her then. I can meet your wife, too, right?' I go, 'Wife's not here.' We go to the car and [Frannie's] sleeping, she's a sweaty mess. He looked at me like, 'You're still the same eff up you were 20 years ago.'"
FedEx trauma aside, Jason says that he's been enjoying Frannie's toddlerhood. "You can have the first year, I've got no time for the first year…Even the first half of the second year, it's just garbage," he joked. "They don't reciprocate at all."
"They'll throw up cute every once in a while, but most of the throw ups and the screaming and the no sleeping…It's no good. But now that she's starting to really be fun, I'm having a good time."
So — it seems — is Frannie! A die hard Dodgers fan, she even keeps close tabs on dad's season tickets. "Every time I try to sneak out of the house to go to the game, she says, 'Where are you going?'" he recalled. "I'll say the Dodgers, and she'll say, 'Well, I want to go.'" After explaining that he doesn't have enough tickets, Jason says that chaos usually ensues.  "So now she's crying, and my wife is already upset that she's letting me go to the Dodgers game, and now I'm leaving her with a bomb she needs to dismantle," he joked.
Frannie is Jason's daughter with wife Amanda Anka.
Source: Late Night with Jimmy Fallon
– Missy