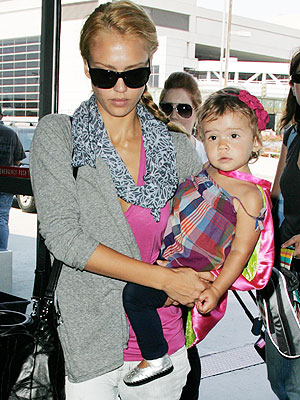 INF
Is Honor Marie Warren a budding superhero? The 15-month-old wore a satin cape — complete with an 'H' embroidered on the back — to catch a flight with Jessica Alba at LAX on Thursday.
She may not be leaping tall buildings in a single bound, but Honor is getting steady on her feet! Dad Cash Warren Tweeted on August 24th, "Honor took her first steps tonight!! uh oh…"
Honor wears Pediped Katelyn's in Silver ($32), a Cutie Pa Tutus Personalized Super Hero Cape in Hot Pink ($45) and a Madras Cami by 77kids by American Eagle ($24.50).