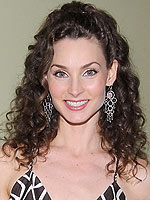 Michael Simon/Startraks
For actress Alicia Minshew, 35, motherhood was never part of the plan — until she met the right guy! "This is all his fault," she jokes in the August 25 issue of Soap Opera Digest of husband Richie Herschenfeld. "He made me want babies!"
Recalling an earlier interview in which Alicia — now in the third trimester of her first pregnancy, a baby girl due in November — said she "wouldn't want to have kids" if it weren't with Richie, the All My Children star says that she "still stand[s] by that."
"Eight years ago, it would have been a different story, but now I can't wait to be a mama."
The couple kept the pregnancy a secret from Alicia's co-workers until she was five months along. "Some people said that they had suspected it," she notes. "I mean, I've gained 10 pounds already and on a little body…If you see me every day in tight things, every now and again you see a little something and you're like, 'Hmmmm. What is that?'" Still, others were caught completely off-guard by the news. "It was really cool because I got such a mix of reactions from people, from total shock to people going, 'Yeah, we thought so,'" she says.
Co-stars Thorsten Kaye and Cameron Mathison "knew very early on," Alicia shares. "They were so great and so supportive and they totally kept my secret from day one, those two, and I love them for that." AMC icon Susan Lucci was also one of the first to know. "She jumped out of her chair like a little girl and she must have hugged me 10 times," Alicia recalls. "It was a really special moment, exactly why I had wanted to tell her before I told other people."
Concealing her baby joy on set was particularly tough given the subject matter for her character Kendall Hart; For two weeks, Alicia kept a crib-side vigil over her fictional baby Ian, who was battling a heart problem. "I was in the first trimester and I was so nauseous and so uncomfortable and nobody knew," she says. "It's my first time, newly pregnant, and I was so afraid that going through this emotional stuff was going to hurt my baby, which is why I ultimately felt like I had to tell somebody, and I told Cameron." Instantly, the actor, a father of two, quelled Alicia's fears.
"He was like, 'No no, no. Babies are resilient.' He calmed me down. He said 'You're going to be fine, just take care of yourself.' But it was a challenge man!"
Source: Soap Opera Digest, August 25 issue
– Missy