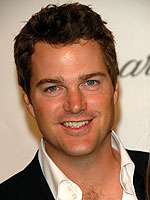 Stephen Shugerman/Getty
For father of five Chris O'Donnell, the decision to move from the big screen to the small screen was easy. Not only does he consider television "an exciting format," the 39-year-old actor says signing on to the cast of NCIS: Los Angeles makes sense "on a personal basis" as well. "It worked for me…the idea of being in one city," he muses in a new interview with The Jacksonville Observer.
"I've got five kids now, which is a reality of my life that I had to consider. I gotta work. I've got a lot of mouths to feed and they eat a lot."
Although he worked less while building his family with wife Caroline, Chris says he is anxious to kick his career back into high gear. "I like being busy to set an example for my kids," he explains. "I came out of college and was working nonstop, then I stopped for a while and had a bunch of kids."
When those kids — Lily Anne, 10, Christopher 'Chip' Eugene, 8 ½, Charles McHugh, 6, Finley, 3, and Maeve Frances, 21 months — began to notice their dad had a little too much time on his hands, however, Chris said he knew it was time to act!
"All of a sudden I'm sitting at home and my kids are looking at me like, 'What are you doing?' I'm like, 'I don't know what I'm doing. I think I'm ready to get back to work.' I've been real busy the last couple of years and it feels really good. I hope this show works out and we can do it for many years to come."
NCIS: Los Angeles airs September 22 at 9 p.m. on CBS.
Source: The Jacksonville Observer
– Missy