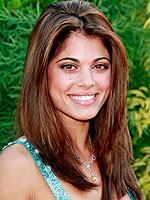 HC/Splash News Online
For actors (and former Passions co-stars) Justin and Lindsay Hartley, living apart has become a fact of life. Last year, while Justin filmed Smallville in Vancouver, Lindsay would routinely make the flight to Canada but the roles are about to be reversed now that the couple's 5-year-old daughter Isabella Justice is enrolled in kindergarten.
"Last year, I did quite a bit of traveling up there, but this year it's not going to be that easy," the 31-year-old actress notes in a new interview with Soap Opera Digest. "He's going to be doing all the traveling, pretty much."
"Bella is going to be full-time in school, so I can't just take her out."
Clearly enamored with her daughter, Lindsay raves, "She's really a good girl and she's got Justin's sense of humor, which I'm really proud of because he's hysterical." She adds,
"I love the fact that she's got a good sense of humor, too, because that's so important in life — to find things light and funny."
Bella is the only child for the couple, who married in 2004.
Source: Soap Opera Digest, August 25 issue
– Missy