Happy Birthday Henry Story Driver!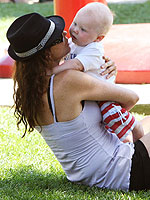 Fame
Happy birthday to Henry Story Driver! Actress and singer Minnie Driver's main man turns 1 year old today.
Since his arrival last September, we've spotted Henry at the airport, strollin' in Malibu and playing at the park, but one thing's for sure — he's always with mom!
To celebrate Henry's big day, we've put together a gallery of some of our favorite photos of him from the past year. Take a look here, then come back to this post to wish him the best!