Erykah Badu on Homeschooling, Homebirths and More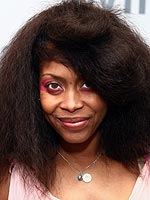 Sara Jaye Weiss/Startraks
The importance of a quality education can never be underscored, and that's why Erykah Badu says she felt compelled to homeschool son Seven Sirius, 11 ½, through kindergarten and first-grade. "I wanted to give [him] special attention academically, to give him an advantage," the 38-year-old songstress explains in a new interview with Babble.
Mission accomplished! Erykah says that through their collective effort, Seven "learned how to solve problems in a nontraditional way" which has served him well now that he is enrolled in a traditional school. "He developed an edge in his schoolwork," Erykah notes. "He enjoys challenges…He pushes himself…He does his homework voluntarily."
"He does not want to miss school or be late or be untidy or not have his things in order because that was a big part of how he was brought up. I don't have any idea what Seven is going to choose to do, but he knows how to be disciplined and how to learn, and because of that he's one of the top students in his school, and one of the top students in Dallas."
Citing "parents not participating in kids' schooling," as her biggest parental pet peeve, Erykah adds,
"I don't think it matters what school you go to, but I think it's important for parents to be involved. And to know that when school stops, learning continues, and to continue teaching at home."
Click below to learn who "dared" Erykah to tweet Mars' birth.
The food which fuels that learning is also a big concern for Erykah, who adheres to a vegan lifestyle both for herself as well as for her three children, which include daughters Puma Sabti, 5, and Mars Merkaba, 7 months. "When Seven was born I was a vegetarian and his father [Andre 3000]was too, so it was a natural progression for him in life to eat the things we eat," she explains. "Puma is the same way. It's just what's in the house."
The kids are also being taught to read the ingredients before they consume, though Erykah is quick to point out that she did not "in any way force them to have the same lifestyle," adding, "I think they should know the benefits of having a healthy body."
"If they were to choose to do anything else after they become high school students, I would have full confidence that they know how to take care of their bodies and themselves. By making sure they use preventive medicine — getting plenty of water, plenty of chlorophyll and vegetable juices and good, healthy rest and activity — I know they'll be able to take good care of themselves."
The diet is sometimes a challenge, however. When asked about whether her children ever request hot dogs, Erykah replies, "they joke about it," and concedes, "I'm sure as children they feel left out sometimes." When those situations seem likely to arise, Erykah says she always has an alternative food to offer. "We make sure we keep a school menu on hand, and we prepare the same foods the kids at school are eating but in a healthier manner," she notes. "That's what this lifestyle provides us with."
"I work really hard the way I do so I can give them all the things they need without them feeling like they're being punished. So they can have a good understanding of what it means to be healthy."
The earlier, it would seem, the better! Mars is currently on a macrobiotic diet, according to Erykah. "It's different from being a vegan," she explains, "in that it goes a little bit deeper into the yin and yang of what a human being needs." She was first turned onto macrobiotics after learning that Seven has food allergies to some nuts, legumes, melons and apples.
"I always wanted to do it, but I didn't really understand the dynamics. Then, the more children you have, the more you get into health and holistic living. Which goes so far beyond being a vegan."
In the interview, Erykah also explains her decision to birth all three babies at home. "That's the natural environment, the old way," she notes. "There's not a lot of fuss and moving around." With Seven, Erykah says she had a "very wise doula" and midwives who gave her the "freedom" to continue living her life while she labored. "I didn't have to uproot myself," she explains. "Maybe to some it's scary, but preparation is the whole key."
"When a mother has found out she's going to have a baby, her whole life — her diet, her mood, her energy — should kind of prepare her. After she prepares herself, fear is never a part of it. I expected success and health, so I made sure I surrounded myself with it. By the time I had my third baby, childbirth seemed a very natural part of life to me."
Tweeting between contractions? Not so much. Erykah reveals it was a dare which led her to provide updates throughout her labor with Mars. "Questlove of The Roots said, 'I bet you won't Twitter while you're in labor,'" she recalls. "I said, 'I bet I will.' So I did." Standing close by were Seven and Puma, who played "a very big part" in helping their mom deliver their newest sibling. "It was very sacred," Erykah says. "They helped me welcome this baby into the world." The Twitter community has done their part as well, Erykah jokes.
"They ask about her every month. [At the time of the interview,] she just turned six months, and I got a lot of 'Happy six months.' She's the first Twitter baby, and she's breastfed on Twitty milk."
Seven is Erykah's son with Andre 3000 of Outkast; Puma is her daughter with rapper The D.O.C; Mars is her daughter with rapper/producer Jay Electronica.
Source: Babble
— Missy