311's Nick Hexum Welcomes Daughter Echo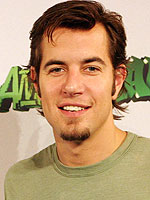 Billy Tompkins/Retna
It's a girl for 311 singer/guitarist Nick Hexum and wife Nikki! The couple welcomed daughter Echo Hexum at approximately 4 a.m. on Saturday, August 29th following a homebirth, according to a Tweet from Nick. Of the experience he writes,
"Words cannot describe how amazing it was. Time to go to bed."
Just four hours later Nick, 39, followed up with "thanks, you guys…my heart sings today," and on Tuesday said, "Day three of parenting. This is the greatest thing ever."
Echo is the first child for the couple, who were married last New Year's Eve.
Source: Nick Hexum
Thanks to CBB reader Jennifer.