Pete Wentz on Daddy Deja Vu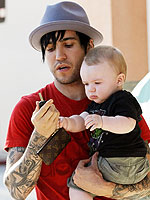 INF
Like other celebrity dads before him, Pete Wentz is stepping up to the parenting plate. With wife Ashlee Simpson-Wentz busy filming Melrose Place, the 30-year-old Fall Out Boy rocker has taken a break from touring to be with son Bronx Mowgli, 9 months. Echoing the sentiments of at-home parents everywhere, he observes to USA Today that,
"When I'm at home, I feel like sometimes I have a 9-to-5 job. You became your dad. Two dogs, a wife and a kid. Stuck in traffic."
Not that he's complaining! "All I really like to do is hang out with Bronx," Pete admits. "He kind of has a new noise or a new thing every day. He's really funny and is going through a lot of discovery."
As is, apparently, the proud papa. Pete is poised to unveil his brand new five-issue comic book miniseries Fall Out Toy Works on Wednesday; While Ashlee is supportive, Pete says that her enthusiasm for the genre is minimal. "I don't think [comics are] really up her alley," he explains. "Our tastes come together in really weird areas, and I don't think this is one of them."
Whether Bronx is someday impressed by Pete's debut is a much more pressing concern, however. Adds Pete,
"I think after you have a kid, all of a sudden you want to do things that your kid can see."
For more information on Fall Out Toy Works, click here.
Source: USA Today