Charlotte Church 'Definitely' Wants More Kids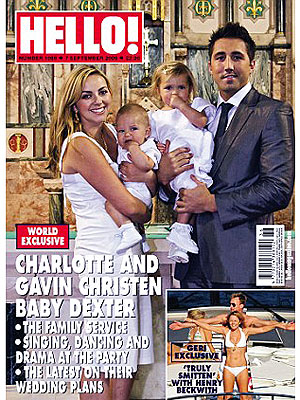 Courtesy Hello!
Having two children under two has done nothing to deter Charlotte Church from her stated goal of having a large family.
Speaking shortly after the Saturday christening of her son Dexter Lloyd, 7 ½ months, the 23-year-old songstress — also mom to Ruby Megan, turning 2 this month — said that she and partner Gavin Henson may have revised their timeline, but not their intentions!
"We definitely want more kids," she revealed to Hello! magazine, "but we think we'll wait a few years now until Ruby goes to school."
Weighing heavily on her mind is the discomfort of pregnancy. "I suffer badly with aching hips when I'm pregnant and last time, with Dexter, it was so painful," Charlotte lamented.
Her own weight, on the other hand, is not a concern."I couldn't care," Charlotte proclaims.
"When I get to the stage where I personally think, 'Crikey, I've got to do something about this,' I'll eat less or eat healthier but I won't be spurred on by what's written in the media."
Noting that her wardrobe offers a "ridiculous" range of sizes, Charlotte does admit that she's pleased with where she's at. "It is kind of nice to have my body back," she says.
As for their second child, the couple say that they've been blessed with an easy-going baby. "As long as he's getting attention and someone's holding him or playing with him, he's happy," Gavin beams, prompting Charlotte to add,
"Especially women — he's a terrible flirt."
Source: Daily Mail via Hello!