Thandie Newton 'Cannot Believe' Love for Daughters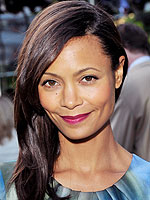 Jon Furniss/WireImage
For Thandie Newton, 36, dressing up in designer duds easily ranks among the biggest perks of a career in acting. "Love it," she proclaims in a new interview with the Independent.
Her two daughters Ripley, turning nine this month, and Nico, 4 ½, are apparently of like mind, and both girls enjoy watching their mom get awards show ready. "They say, 'Mummy pretty' and all that," Thandie reveals. "Nico watched Norbit the other day on DVD…I don't think she understood it but she spent the whole time stroking the screen and saying, 'Mama?'"
While she was no doubt intrigued by what she saw, Thandie says it is her older daughter who is most interested in becoming an actress.
"That's how fame seems to children. They think it's all glamour and glitz, but it's really hard work."
Hard work that Thandie won't give up anytime soon. When asked whether she'd consider becoming a full-time mom, she answered with a definitive "no" before adding, "I like escape, just as everyone else does." Getting the fantasy to mesh with the reality can be difficult. "It's called the fame game, isn't it?" she asks.
"In my day-to-day life I feel I am a wife and mother. I take the kids to school. I pick them up. We go to the park. I make food, that type of thing…I cannot believe how much I love them."
That sense of normalcy extends to Thandie's view of her body as it has changed since welcoming her daughters. "I fed them both and carried them in me," she points out. "When I see women who have plastic surgery done to their boobs I think, 'How can you when they have fed your children?'"
Ripley and Nico are Thandie's children with husband Ol Parker.
Source: Independent
— Missy