Heidi Klum: Business Casual Bump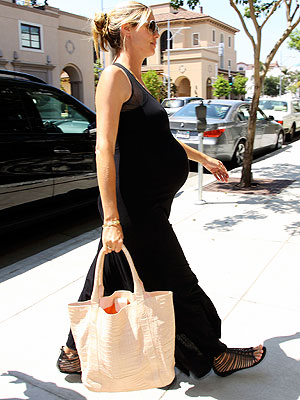 Anthony/Nathanael Jones/Pacific Coast News
Side view! Heidi Klum lets her belly lead the way as she heads into a business meeting in Beverly Hills, Calif. on Monday.
Baby girl — due in mid-October — is lacking a name, Heidi recently told USA Today.
"Because we know it's going to be our last baby, it's way harder. Before it was like, 'This is the name and that's that.' We're going to wait until we see the baby and hopefully the light bulb will come on and then it'll be like, ding-ding-ding!"
Heidi wears Steve Madden Libbiee Sandals in Black Leather ($75). (Brown still available for $50).
She carries Krocoa's Curvy Shopping Bag in Sand ($3663). Get it by special order at Beyond 7, 601 West 27th St in NYC, or by calling the store at 646-619-6857.