Gwen Stefani Spills on Her Life As a Rock Star Mom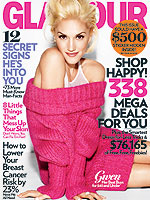 Courtesy Glamour
Once a typical teenager living in Southern California, Gwen Stefani admits that the rock star lifestyle she now leads with husband Gavin Rossdale and their two children Kingston James McGregor, 3, and Zuma Nesta Rock, 1, is a reality that is at times hard to accept.
"I grew up in a normal family," she reveals in the September issue of Glamour. However, it is her day-to-day routine that leaves the songstress realizing that her childhood sense of normalcy is long gone.
"Yesterday…at the end of the night, I was there with [Kingston] putting him to bed, reading all his books, getting his diaper on and putting him in his crib. Then I got [Zuma], nursed him, put him to sleep. Then I went to a Hollywood party! It is extremely different from how my parents raised me."
While she jokes that she may just be a "late bloomer" and her days of creating a stir in the media are still to come, Gwen credits her upbringing as the reason she stays grounded. Her lack of negative attention in the spotlight often leaves the mother-of-two imagining how she will ensure the same rings true for her boys.
"I was thinking today when I was driving, 'How am I going to make sure that Kingston never does anything bad and doesn't get arrested?'" she muses. "I was thinking, 'How did I stay out of trouble?' And I know it's just 'cause my parents are so strict. I mean, I'm still scared of them!"
Fortunately for Gwen, her recipe for success from her own "sweet parents" is never far — she shares that the couple are a big part of Kingston and Zuma's lives, often watching the kids when she is busy.
The journey of motherhood — and raising well-rounded kids — is not an easy one, admits Gwen, who never realized how difficult the responsibility would be. "I've always worked really hard, and the hardest thing I've ever done is have kids!" she notes. "Everything from getting up in the morning to trying to be consistent to trying to have the right feelings. But, of course, the rewards are great."
Although Gwen never envisioned the abrupt turns her life has taken, she finds everything that much easier with Gavin by her side. "I always thought he'd be a good dad," she said, quoting her hit 'Simple Kind of Life.' "And he has basically lived up to that and beyond, beyond."
"He's very, very passionate, and he's very intense. He's made to be a dad. I'm very lucky."
Source: Glamour
— Anya