Greg Grunberg on Son's Epilepsy: 'Don't Let It Define You'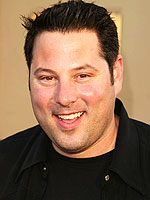 Kiley Bishop/London Ent/Splash News Online
If you've ever witnessed a stranger suffering a seizure, you know how scary those moments can be; For those who live with epilepsy on a daily basis, however, seizures are just another fact of life. Actor Greg Grunberg falls into the latter category, as dad to 13-year-old Jake, who was diagnosed with epilepsy. In creating TalkAboutIt.org, however, the Heroes star says he hopes to remove the fear factor often associated with a seizure.
"I was getting ready for a speech on epilepsy and I was thinking, 'If I'm going to make an impact, what does this community really need?'" he recalls in a new interview with PARADE. "From talking to all the top docs and people in the community, I kept hearing the same phrase in the back of my head, 'If we could just get people to talk about this.'" Noting that "if everyone knew about it, it wouldn't be so scary," Greg adds,
"It's interesting because I approach it from the [perspective of the] father of a child who has epilepsy. I'm incredibly passionate about it. It's made me relate to anybody. Everybody's got something they're dealing with. I mean, I've got cholesterol that I have to watch. This is what we teach our son, don't let it define you, but at the same time deal with it, don't hide it or be ashamed of it."
Teaching Jake and his little brothers Ben, 9, and Sam, 5, to accept themselves for who they are has, in turn, enabled Greg's kids to be similarly accepting of others. "My kids are the ones who see another child or person in a wheelchair and walk up to them and go, 'Hey what's the matter? What happened?'" Greg proudly reports. "It's not like they look out of the corner of their eye and they're scared."
"They deal with this every day. Like a kid in class who might be autistic, they end up being their best friend. And Jake leads a walk in D.C. with 15,000 people behind him. He's got his arms in the air and he's leading this walk on the Mall and I'm really proud."
Between his website, his acting career, his rock band or even his entrepreneurial endeavours– Greg is creator of the iPhone app Yowza — finding time to unwind is tough; When it arises, however, Greg says he chooses to spend it with his sons. "Playing with the kids and spending time with them is great," he explains. "It keeps me in that child mindset. Without my kids and my family, I've got nothing."
Jake, Ben and Sam are Greg's children with wife Elizabeth.
Source: PARADE
— Missy