Annika Sörenstam Welcomes Daughter Ava Madelyn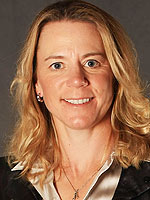 Scott Halleran/Getty
Women's golf may have a future new member — Annika Sörenstam has given birth to a girl.
In a post to her blog less than an hour after delivering her first child with husband Mike McGee, the retired golf pro announced the arrival of daughter Ava Madelyn McGee.
Ava, weighing in at 6 lbs., 10 oz., and measuring 19 inches in length, was born Tuesday, September 1st at 3:30 a.m.
"We are all doing well and we truly appreciate the support we have received. We are VERY excited about our new addition and will keep everyone posted in the coming weeks."
Annika, 38, and Mike were married in January 2009. The couple announced they were expecting in March, and revealed in June that baby-on-the-way was a girl.
Before retiring after the 2008 season, Annika made her mark on the golfing world. With 72 LPGA wins and an induction into the Golf World Hall of Fame in 2003, she is one of the most recognized names in the sport.
Source: Annika Sörenstam
— Anya