Aiden Turner Welcomes Daughter Ciella Larryn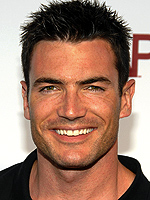 Jean-Paul
Aussenard/WireImage
It's a girl for All My Children star Aiden Turner and wife Megan! TV Guide reports that the couple — married since 2006 — welcomed daughter Ciella Larryn Turner at 12:20 a.m. on Friday, August 21st. Weighing in at 9 lbs., 13 oz., she is the first child for both.
Her name has special significance for the proud new mom, Aiden reveals.
"Her middle name comes from Megan's father, Larry Marshall, who died just two weeks ago after a year fighting cancer. We are very happy she arrived so healthy and so beautiful. We wish her Grandpa Larry was here to hold her."
The pregnancy was announced in March.
Source: Soap Opera Digest