Jamie Oliver Dishes on His 'Little Ladies'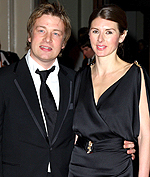 Mike Marsland/WireImage
As the father of three girls, Jamie Oliver is already bracing for what awaits him during their teenage years. "It's going to be tough, isn't it?" he asks Closer magazine. "I'm not going to want any boys going near them…Not my girls." That time appears to be flying by has done little to ease the 34-year-old celebrity chef's anxiety! He notes,
"[Poppy Honey, 7, and Daisy Boo, 6] have got big so quickly, they're little ladies already."
Of his littlest lady of all — new baby Petal Blossom Rainbow, 5 months this week — Jamie raves, "she's beautiful, and so peaceful," before adding,
"She's one of those kids you can leave for an hour and a half and wonder why she hasn't made you come over and pick her up in all that time. We've got a calm one."
Jamie also appears to have a mini-me in Daisy. "[She] says she wants to be a chef, so you never know," he reveals.
Poppy, Daisy and Petal are Jamie's children with wife Jools Oliver.
— Missy