Kendra Wilkinson Opens Up About Baby's Health Scare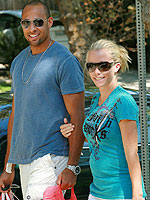 Sam Sharma/Pacific Coast News
Like many parents-to-be, Kendra Wilkinson and her husband Hank Baskett were anxiously awaiting the ultrasound that would reveal whether their initial instincts of a baby boy were to be true or if the two would soon be seeking pink.
However, after a trip to the doctor only the day before, the couple were left with a much bigger worry: baby-on-the-way's heart was showing abnormal beating patterns. "The doctor told us that there were heart problems — not problems, but it was like a skipped beat," Kendra tells E!. "I was so scared and so was Hank, we were both very nervous."
As baby's health immediately became first priority, Kendra admits everything else was suddenly pushed to a back burner. "We didn't even care about finding out the gender, we cared about finding out the next day if it was healthy," she shares.
"I just wanted to get there and see that heart beating…and we did. We went there the next day and we were just both very nervous and excited at the same time, but we saw on the ultrasound the perfectly normal heart and that's all we cared about."
Once the health scare passed, doctors confirmed Kendra's suspicions that she was indeed expecting a boy! "We cried and then all of a sudden…a penis! That was like the extra, to top everything off," she laughs.
Baby boy — to be named Hank Baskett IV — is due on Christmas.
Source: E!
— Anya