Rachel Campos-Duffy Dishes on Her 'Love Letter' to At-Home Moms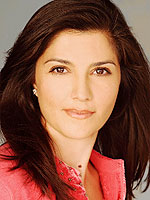 Courtesy Rachel Campos-Duffy
When former Real World star Rachel Campos-Duffy famously auditioned for — and lost — a spot on ABC's The View, it was a blessing in disguise. The 37-year-old mom-of-five says that retreating to Ashland, Wisconsin to focus all her time and energy on her growing brood was the path she was meant to take all along. "People are focusing so much on the idea of at-home motherhood and whether it is good for kids or not," she notes in a new interview. "In my situation, it is good for my kids."
In her book Stay Home, Stay Happy: Ten Secrets to Loving At-Home Motherhood, which she describes as a "love letter" to at-home moms," Rachel says she makes "no judgment about what works for other families." Instead, she points out what is is often missing in the debate between moms who work outside the home and at-home moms — the "pleasure" that being an at-home mom brings. "I really like what I do," Rachel says,
"What's interesting to me is that when I express that, whether through my blog or in my book, people kind of look at me like either I'm crazy or I'm a Stepford wife. It's so hard for people to imagine that I love doing it. I think the reason they find it hard to believe that I love it is because it's hard work."
She adds,
"There are a lot of things out there that are hard work. Yet, as an at-home mom, when you say: "I love what I do," people look at you like you're wearing rose-colored glasses. You must not be telling us the full story."
If anyone were to doubt that her feelings are genuine, they need look no further than her family with husband (attorney, Congressional candidate and fellow Real World star) Sean Duffy — for the couple haven't ruled out a sixth child! "We're not opposed to the idea, but if I did, I'd like to say that would be the last," Rachel says.
Together, Rachel and Sean are parents to Evita Pilar, 9 ½, Xavier Jack, 7 ½, Lucia-Belen, 5, John-Paul, 3, and Paloma Pilar, 15 months.
Stay Home, Stay Happy: Ten Secrets to Loving At-Home Motherhood is available now.
Source: Duluth News Tribune
— Missy