Kourtney Kardashian and Kendra Wilkinson Bare Their Bumps, Bond Over Babies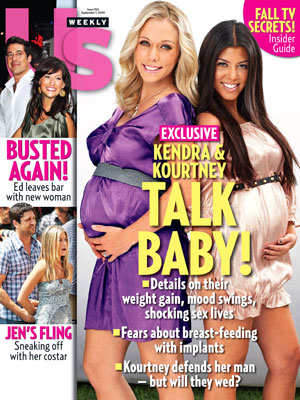 Courtesy Us Weekly
Fans of E! are becoming well-versed in the mindset of an expectant mom, now that two of the network's reality television stars are expecting their first children.
And just as when the cameras are rolling, Kourtney Kardashian, 30, and Kendra Wilkinson, 24, leave little unsaid in the pages of the September 7 issue of Us Weekly.
In a wide-ranging interview, the moms-to-be — Kourtney and Kendra expect babies around Christmas with on-again boyfriend Scott Disick and husband Hank Baskett, respectively — reveal that they have more than an employer and a due date in common!
Both are hopeful that breast implants won't impede their ability to nurse, say they're striving for vaginal deliveries and talk candidly about the art of balancing an increased sex drive while operating on decreased energy.
Click below to read the full interview!
How did your guys react to the big news?
KENDRA: "I kept taking pregnancy tests every other day, but they were all negative. Then Hank and I were stuck in the airport in Amarillo, Texas, on our way to his annual golf tournament in Clovis, New Mexico, and I'm like, 'Hey, let me take another one real quick, I have to pee anyway.' So I go in the bathroom and it was positive. We both sat down on the baggage claim, and were like, 'Oh, my God!' We were just in shock. And all of sudden, out of nowhere, all my symptoms hit me. I was like, 'I'm hungry! Go get me something!'"
KOURTNEY: "Scott was living in New York City, but I called him and said, 'I think I might be pregnant.' And he was like, 'I'll get on the first flight to Miami.' I probably took 10 pregnancy tests. I was chugging huge bottles of water and taking them throughout the day. He was like, "How many of these tests are you going to take before you realize that you're pregnant?" But he was always very supportive of me having the baby."
You debated keeping the baby. Why?
KOURTNEY: "Some of my friends said, 'Oh, just get an abortion. Can you really see yourself with a kid right now?' When I looked online there were all these stories of people feeling so guilty because they didn't think it through. For me, it was a journey to go through. I truly believe that everything happens for a reason. I'm 30-years-old, I can afford to have a child and I'm with someone who I'm in love with and who supports me. Plus, I have such a great family."
But the pregnancies weren't planned, right?
KENDRA: "We always hinted to each other from the beginning that we wouldn't mind having kids soon. We weren't trying, but we didn't use a condom that night."
KOURTNEY: "I forgot to take the pill a few days in a row, so I was waiting until I got my period the next month to start taking it again the right way. Scott and I had been on a break for six months and we were slowly trying to work things out in April. When he was in town, I would tell [sister] Khloé [Kardashian], 'All right, I'm going to sleep!' And then I would sneak over to his hotel and sleep there, and no one had any clue."
So were you together when you discovered you were pregnant?
KOURTNEY: "I would say yes. We always had this definite bond and connection. We started dating in March 2007 and broke up in November 2008 because of trust issues that I had with him. It wasn't that I didn't trust him around girls; it was just certain ways that he would behave. He would go to New York and hang out with the wrong people and party and act in a way that wasn't the Scott I knew. When we broke up, I told my family, "We are done with Scott, he is out of our lives." So then all of a sudden I'm like, 'I am having a baby with Scott,' and my family said, 'Wait, you made us hate Scott!' But these days, everyone has been really supportive of us. My mom and Scott have definitely been getting along."
Speaking of moms, you both broke the pregnancy news to your mothers on camera.
KENDRA: "I shouldn't have done that! I raised the champagne glass [at my San Diego bridal shower] and I was like, "Well, I can't take a sip of this because I'm pregnant!" She was very shocked. I don't think she could see me as a mom yet. I'm still her baby."
KOURTNEY: "Khloé and I went to my mom's house, and I made Khloé tell her because I could not say the words. She was so stunned! And telling Bruce [Jenner, stepdad] was terrifying. But that man doesn't get  shocked by anything in this family."
Tell Us about finding out the baby's sex.
KENDRA: "The whole time, I felt it was a boy. We took an at-home gender test, and it's not 100 percent accurate but we wanted to do it for fun, and it came out a boy. We went in [for a sonogram] to make sure."
KOURTNEY: "I think I will find out just for decorating the nursery. I go to my doctor next week. I'm really excited to find out!"
How are you doing emotionally?
KENDRA: "I cry over every little thing now! The other day at the grocery store I saw some little boys open the car door for their mom, and I just started sobbing."
KOURTNEY: "I throw bitch fits, and the other day, I was like, "This house is such a mess! Now that Scott's living in my house, there's stuff everywhere! We need to get it organized!" Everything I had to do, I blamed it on Scott."
Do you think you two will get married?
KOURTNEY: "We talk about marriage all the time, but there's so much to do with the baby. Planning a wedding right now would be too much. I'm not in a rush, but I can definitely see us doing it after the baby comes. I'm like, One step at a time…Let's see how we feel tomorrow."
Has your level of intimacy changed?
KENDRA: "I've been hornier! We'll be off-roading, and we'll go at it in the bushes somewhere! Or we'll be driving, and he'll pull over. Quickies are the best! If he lasts any more than a couple of minutes, I'm like, 'I'm done!' I'm not joking: I'll stop."
KOURTNEY: "I feel like that too. I get so exhausted at nighttime."
How has your body been changing?
KOURTNEY: "My boobs have grown enormously. I'm popping out of my bra, but I still haven't gotten new bras yet."
KENDRA: "Oh, girl! I get it. I went from a size small sports bra to size large sports bra. These things just won't stop growing."
You have implants. Will you breastfeed?
KENDRA: "I was so scared that I wasn't going to be able to nurse that when I saw stuff come out of my nipples the other day, I was like, I can breastfeed? And I asked my doctor, who said, 'That's fine, but it's not milk yet!'"
KOURTNEY: "They say usually you can [breast-feed with implants]. I want to."
Any mom-to-be beauty secrets?
KOURTNEY: "To prevent stretch marks, I put on cocoa butter every day, twice a day. I lather my belly down."
KENDRA: "I just noticed [stretch marks] on my boobs, so I'm a moisturizing freak! I have it on 24/7. Hank rubs it on me almost every night too. He rubs it on my feet and everything — my boobs too!"
How does your man feel about your new body?
KOURTNEY: "Scott loves it! He thinks it's so sexy. I still wear my sexy bra and underwear. I'm not gonna wear gross underwear! But last night, I came out of the room, I had just put lotion on everywhere, my stomach was shining and glowing, and he thought it was the sexiest thing. You know you have a good guy when he dies over it!"
KENDRA: "Yeah, when I'm putting the lotion on, Hank will come behind me and just rub it and say, 'That's so beautiful! Can we take a picture?'"
Are you anxious about the delivery?
KENDRA: "At first I was scared, but as time goes on I'm more excited about it. I don't want a C-section, but I do want a lot of drugs."
KOURTNEY: "I think I'll [use pain medication]. My mom did with all six of us. If everything goes OK, I  want to give birth vaginally. My doctor, Paul Crane, is the same guy who delivered me and all my siblings. He's like family."
Who is going to be in the delivery room?
KENDRA: "That is the red zone. Nobody is going in that room except for Hank. He's the only one with the camera! I don't want anyone staring at my vagina. At first he said, 'I'll be there next to you, but won't watch.' But now he says, 'I want to see the crowning moment.' I'm like, 'Will you have sex with me after seeing this?'"
KOURTNEY "Scott goes back and forth. He'll say, 'I'm just gonna stand and hold your hand and not look,' and then he'll say that he wants to see it. I was actually in the room when [half siblings] Kendall and Kylie were born. My mom was crazy: She had all of us in the delivery room! I feel like my whole family will be in there too. But if they start annoying me I'll say, 'Everyone out immediately!'"
Your lives have changed so much very quickly.
KOURTNEY: "Right before this all took place, Khloé and I went to Miami to be single, crazy girls having fun, focusing on ourselves. I made out with a girl, and we had a great time. I never would have thought that all of this would have happened to me."
KENDRA: "Partying was one chapter in my life and it will always be a part of me. And when the baby's born, I'll bring him back to the [Playboy Mansion]. Hef is a huge part of my life, and I don't care about any other whore there. I care about Hef. He's a good dad, a great person, and I want my child to be around him a little bit."
What kind of mom will you be?
KENDRA: "I want to make sure that my boy knows I'm there every step of the way. I will be putting 100 percent of my love and time into my child."
KOURTNEY: "I feel like you don't want to be too much their friend, and you don't want to be too strict. My dad [the late Robert Kardashian] was always the perfect balance."
What's the best thing about expecting?
KENDRA: "Finally in my life, I feel needed, like my baby needs me. I'm very attached and bonded."
KOURTNEY: "I love being pregnant. I feel like it's going by too fast. It is the best thing that's happened to me. It's such a spiritual thing happening in your body, and it's what your body was made for."
Source: Us Weekly, September 7th issue