Jerry O'Connell Dreads 'Smelling Number Two' in Public Places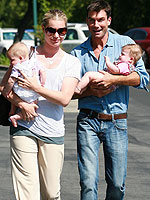 Sam Sharma/Pacific Coast News
As a first-time father, Jerry O'Connell has quickly learned to expect the unexpected. For the 35-year-old, this often means having several extra diapers on hand and being able to manage impromptu changes on the go! "The hardest thing is being in a public place like a store or a restaurant — or on your wife's TV show set! — and smelling number two, and knowing it's one of your children," he explains, adding that "those situations are always embarrassing."
Life for the family has been all about lessons; On hand at the Much Love Animal Rescue Bow Wow Wow, Jerry tells E! that a recent run-in with the director of wife Rebecca Romijn's new series Eastwick left the actor having to explain the meaning of "quiet on the set" to his fraternal twin daughters Charlie Tamara Tulip and Dolly Rebecca Rose, 8 months.
"I went to my wife's work yesterday and she was in the middle of a dramatic scene. And I had the kids there and one of them was like, 'Bwaaahhh.' It was very verbal and busted the scene up," he admits.
"I thought it was funny, but I don't think the director did, so I got the heck out of there. I had a long talk with the girls about show business, but I don't think they had any idea what the heck I was talking about."
Recently revealing that Rebecca has made it clear "the factory is closed," Jerry elaborates that the couple of two years plan to focus on their girls — and laughs any new additions to the family will be four-legged! "This is it. It's over," he says. "Now we're just adopting dogs."
Source: E!
— Anya
Check out our recent feature on Jerry and the twins, featuring personal photos.