Heidi Klum Hoping For 'The Light Bulb to Come On' For Baby's Name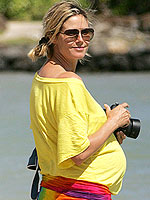 Splash News Online
As the producer and host of Project Runway, designer of several clothing, shoe and fragrance lines, and a mother of three, Heidi Klum is no stranger to making tough decisions. However, due with her fourth child — a girl — in October, the Victoria's Secret Angel admits to USA Today that she has finally been stumped in choosing a name for her daughter! "Because we know it's going to be our last baby, it's way harder," she explains.
"Before it was like, 'This is the name and that's that.' We're going to wait until we see the baby and hopefully the light bulb will come on and then it'll be like, ding-ding-ding!"
While the name game may be weighing heavily on Heidi and her husband Seal's minds, the model has been kept busy with the day-to-day job of running the household. Noting that she would have made "a very good event planner," Heidi designated herself "captain of the ship" this summer when Seal hit the road on tour in Europe. "I'm definitely the organizer of who is doing what," she shares. "What are we eating, where are we going, what's the plan for the day; Making sure everything runs smoothly."
Fortunately, her top-notch management skills always include play time for Leni, 5, Henry, 3 ½, and Johan, 2 ½, who are given free reign of the house. "I'm not someone who is like, 'Okay, this is a museum and you can't sit here and you can't touch this and everything has to be put in its place,'" Heidi explains.
"They live there as much as we do. You come into our house and there is a giant elephant and lion to welcome you. We have those big stuffed animals and we have toys and things everywhere."
Still holding strong on her stance that baby-on-the-way will be their last, Heidi laughs that the couple are being overrun by their troops! "We're outnumbered," she jokes. "Four is perfect. Three is a lot. But four? It's a lot of work." According to expectant mama, as two actively involved parents, the pair have reached their limit.
"We're hands-on and we feel like this is what we can handle."
Source: USA Today
— Anya