Brooke Burke on Her Party of Six
In March 2008, season 7 Dancing With the Stars champ Brooke Burke, 37, and her actor fiancé David Charvet, 37, added a boy, Shaya Braven, 17 months, to their brood of three girls, Neriah, 9, Sierra Sky, 7, and Heaven Rain, 2 ½. Here, the parents talk about their crazy lifestyle.
David: I like that there is a little more testosterone. Having all these girls around me was a little difficult. Especially for the electrical bill, when all the hair dryers would go on at once!
Brooke: I am super-close with my girls, but I have always wanted to have a son, and I was committed to keep on going until I got him.
David: There is a really strong connection between Shaya and me. He is very deep when he looks at you. Having my son has been a dream come true and I really feel we're going to be close.
Brooke: Three was much easier. Four rocked my world because two of them are young enough that they absolutely need me at all times. There is a lot of action, and it's a lot busier. We all help.
David: It's very, very hard, because there is always somebody that needs something. At the end of the day when everybody is asleep, we're so exhausted from starting at 5:30, 6 o'clock in the morning…
Brooke: Like, you know that date we thought we wanted to go on? We're too tired. A lot of couples have date nights — but they don't have four kids!
David: Instead, we'll have dinner at night in the cabana, have a big fire and bring out the instruments.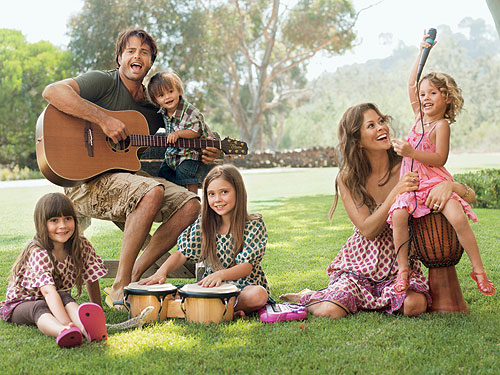 Brian Doben for PEOPLE for use on CBB
Check out video of the family photoshoot — and more from the interview with Brooke and David — on PEOPLE.com.
Click below for a bonus photo!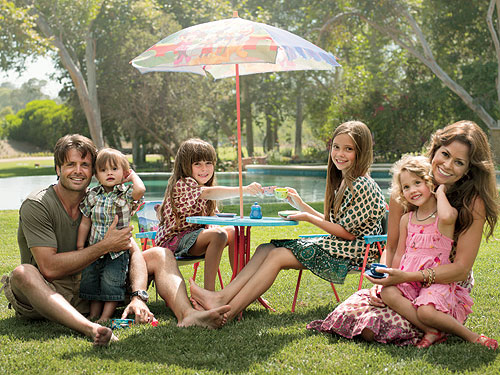 Brian Doben for PEOPLE for use on CBB