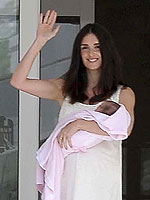 INF
Spanish actress Paz Vega, 33, introduces her new daughter Ava, 5 weeks, in the latest issue of Hola! magazine and raves about life as a mom-of-two. "Motherhood is the greatest, something superhuman, the piece that's missing from the puzzle," she proclaims; Likening her love for Ava and 2-year-old Orson to a "bottomless well," Paz adds,
"It doubles, it triples. It's inexhaustible and inexplicable."
Like most moms, Paz says she often finds herself wondering how she "ever lived" before welcoming her daughter and son. "In homes with children, there is light," she notes. As for Ava's delivery, which required a c-section due to transverse positioning, Paz recalls,
"I remember, more than anything, the moment I heard her cry and I knew that she was alive and breathing. In that moment, you feel a great sense of peace and relief."
Ava and Orson are Paz's children with husband Orson Salazar.
– Missy