Alison Sweeney Dishes on Her Newest Family Member, Megan!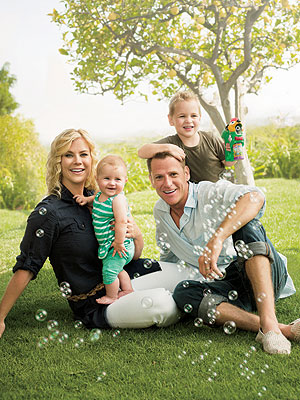 Brian Doben for PEOPLE for use on CBB
On January 12, Biggest Loser host Alison Sweeney, 32, and Dave Sanov, a California Highway Patrol investigator, 36, gave son Benjamin Edward, 4 ½, a baby sister, Megan Hope. The Days of Our Lives actress and her husband tell PEOPLE about how life has changed since welcoming their new arrival.
Dave: Now that we have a girl, I never guessed that she'd be so different from a boy. Ben reacts to airplanes, funny noises and crazy faces.
Alison: Megan loves sparkly, little-girl things. And I swear, Dave agrees you could change her outfits 15 times in a day and she'd be happy!
Dave: When Ben got his first look at Megan, he couldn't stop smiling.
Alison: Before she was born, Ben picked out her pacifiers, so he feels in charge of her and responsible.
Dave: The age difference is going to be perfect: They will be young enough to play with each other, but old enough not to be at odds with each other.
Alison: Ben had just gotten to the age where you don't have to take so much stuff with you anymore — you know, a couple of toys in my purse. Now we're starting all over again with Megan.
Dave: Thank God Megan's got Ali's good looks.
Alison: And both my kids are total cheese balls in front of the camera. I know they get that from me!
For more celebrity babies, check out the August 31st issue of PEOPLE.