Sibling Rivalry Arises Between Tori Spelling's Kids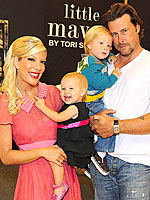 Albert Michael/Startraks
She turned 1 only recently, but Stella Doreen McDermott is a quick study.
Her mom, Tori Spelling, says her and husband Dean McDermott's daughter has started standing up to her older brother Liam Aaron, 2.
"Everything's 'mine' now," Tori told PEOPLE Saturday night at the Much Love Animal Rescue's third annual fundraiser Bow Wow WOW Howlywood! in Los Angeles.
"It's 'mine, mine, mine.' That's the new thing. Before, she was too young, so she gave [Liam] whatever. Now she pulls back and says 'mine' when he's pulling away a toy."
"Mine" is not the only word in Stella's vocabulary, noted the Tori & Dean: Home Sweet Hollywood star, 36. "Stella is talking up a storm. She's just turned 14 months and she's literally repeating everything."
Big brother is also doing some growing up of his own. "Liam's at the point where he doesn't just cry," Tori says. "He puts on the big boy face where he's holding back the tears."
Source: PEOPLE
— Sara Hammel