Jennie Garth Gears Up For the Start of School, Separation Issues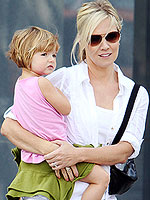 Fame
As summer winds down and the school season approaches, Jennie Garth is counting her last days at home with her daughters. While sending Luca Bella, 12, and Lola Ray, 6 ½, off on their first day is old hat, this year the actress' youngest daughter, Fiona Eve, turning 3 next month, will be passing through the double doors of preschool, leaving a doting mama filled with worry! "I want to stay with them as long as I can," the 90210 actress tells OK!.
"She's going to school where my other two daughters went to school, and they let me stay as long as I need to. It's not even about Fiona…it's about my separation issues."
Fortunately, shopping for school clothes is made that much easier with uniforms, which the mother-of-three "loves because it takes the pressure off" of Luca each morning. That said, a proud Jennie reveals wardrobe changes are not high on the preteen's list of priorities! "My oldest could care less. Most of the time I have to ask her, 'Are you sure that's really what you're going to wear out of the house?' because she doesn't care about it, which is what I love about her," she notes. "She doesn't feel any pressure in that area. I don't know how I managed to do that, but so far, so good with her."
Bringing a balance to the mix, Lola is more fashion-friendly and often channels her ultra feminine side, while keeping her play time in mind! "[She] likes anything pink and sparkly that covers her butt," the 37-year-old says. "She wants to be able to go down the slide and not worry about her underwear showing." According to Jennie, Lola will stop at no cost to achieve her signature look!
"As long as it's sparkly and pink, it could cost $1.99 or $200 — she doesn't care."
Despite their dad Peter Facinelli's filming schedule for Twilight: Eclipse coinciding with the start of school, the family — separated by thousands of miles — will still manage to sit down to dinner together each night. "He Skypes the girls and we have dinner together with him on his computer," Jennie shares. "Fiona tries to feed him through the screen. She doesn't really get it that it's a flat thing."
With the family focused on education, for now, Jennie — who dropped out high school her junior year, but later received her diploma — is determined it stay that way; She admits a future in Hollywood is still years away for her girls, including Luca — who has shown singing talent. "I think that she would love to do something like that, but she knows that I'm gonna make sure she goes through high school first, and when she's ready, to do it the right way," Jennie explains.
"No one's gonna go to acting classes before they're done with high school in my house."
Source: OK!
— Anya