Laila Ali: Laundry Can Wait, Curtis Jr. Can't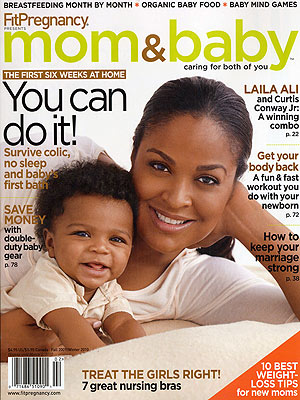 Courtesy Fit Pregnancy Mom & Baby for use on CBB
There is a very good reason expectant parents are advised to sleep while they still can! Laila Ali cites the lack of shut-eye as the biggest challenge she faced after welcoming son Curtis Muhammad Jr., who turns 1 this week.
"I didn't have any idea I was going to be as tired as I am," the 31-year-old professional boxer and Dancing With the Stars alum tells the Fall 2009 issue of Fit Pregnancy. "I love to sleep, and I'm used to getting eight to 10 hours a night. Now, when I get five, I'm thrilled."
The sleep deprivation has taken a toll. "I'm not on top of things like I normally am," she admits. "I've got a pile of paperwork, messages to return and laundry that needs to be done." Keeping the focus on Curtis Jr. helps, however.
"You just get to a point where you have to say, 'This is going to have to wait. It's just not that important.' I could hire a full-time nanny and be able to take care of everything, but I'd rather be there for my son and let the laundry wait."
When she does find herself in need of a break, Laila relies on a part-time nanny for a few hours a day, three days per week. "At some point I broke down and decided to get some help so I could at least go to the gym," she explains.
Crediting boxing, running and some light weight training for her return to pre-baby form, Laila reveals, "as of now, I'm back in shape but I'd like to lose five or six more pounds."
For other new moms ready to hit the gym, she advises "be consistent, and make it a priority."
"Ideally, I like to get up early and work out. But now I exercise when I can fit it in. Sometimes that might be in the evening when I'm tired and don't feel like working out, so I have to drag myself to the gym. And, occasionally, I just don't make it."
On those days, Laila says she is forgiving of herself. "I am not preparing for an [athletic] event," she points out. "I'm a mommy first."
Click below to read Laila's thoughts on breastfeeding.
Providing Curtis Jr. with breastmilk was important to Laila, but so was getting husband Curtis Conway involved at mealtime. "My husband is very hands-on," she notes, "and in order for him to help feed the baby, I decided to start pumping." After one week of nursing Curtis Jr., Laila pumped a bottle of her breastmilk and baby boy never looked back! "As soon as he had a bottle, he wasn't interested in breastfeeding anymore," Laila shares. "I didn't want Curtis Jr. to stop breastfeeding, and I missed that bonding time with him, but at the end of the day I was happy he was getting my milk."
"At the six-month mark I pumped just in the morning and at night and, soon after, my milk dried up. I would have liked to continue pumping, but I'm not going to sit around and mope about it. As moms, we're never really in charge. we just think we are."
Thankful for her "very easy" baby, Laila says that she and Curtis Jr. are a package deal. "We have our playtime together when I let him crawl and play with his toys…He goes wherever I go," she says. "I just pack him up and take him with me." As for her what she would tell other new moms, Laila advises them to follow their instincts.
"When you ask other mothers for advice, everyone is going to tell you something different. Trust yourself and let the experience be uniquely your own."
Source: Fit Pregnancy, Fall 2009 issue
— Missy