Happy First Birthday Zuma Rossdale!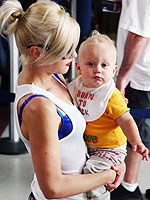 Bauer Griffin
Happy Birthday Zuma Nesta Rock Rossdale! Gwen Stefani and Gavin Rossdale's littlest roadie turns one year old today.
Since his arrival last August, Zuma has kept busy. Spotted on mom's hip, at the beach with dad and playing at the park with big brother Kingston, 3, Zuma spent his first summer on the road with Gwen's band No Doubt. Quite the start for a rock star baby!
To celebrate Zuma's big day, we put together a gallery of some of our favorite photos of him from the past year. Take a look here, then come back to this post to wish "Baby Zooms" the best!