Victoria Beckham: I've Been 'Blessed' With a Brood of Boys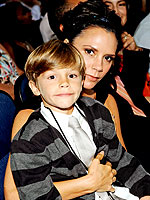 F. Micelotta/American Idol 2009/Getty
Happy husband, happy kids, happy home, says Victoria Beckham. After relocating her family to the United States, the Spice Girl admits that she recently faced a whole new set of challenges when her soccer star husband David Beckham took an extended trip — after signing with the Los Angeles Galaxy he temporarily joined the AC Milan team — back across the pond. "I'm really happy with being here so it was difficult for me going backward and forward trying to make everybody happy," she says.
Fortunately, life for Victoria, David and their boys — Brooklyn Joseph, 10, Romeo James, 6 ½, and Cruz David, 4 — has settled into a normal routine. With her children "very happy" at school, Victoria tells Ryan Seacrest that she now has a true understanding of multitasking! "I get up early in the morning, get the kids ready [for] school, take them to school, and then while they're at school, that's when I manage to get my work in," she explains.
"I have to be done by 3 o'clock in the afternoon so I can go and get the kids again…they will always be our priority, both myself and David's."
When not splitting her time between her career and her sons' school schedules, the 35-year-old can be found on the soccer field! "They stand me in goal and they just kick footballs at me," Victoria jokes. To that end, noting that her three boys are "a lot of work," Victoria says that any plans for a future fourth child are currently on hold.
"Everybody keeps asking me that and I think, at some point if I'm lucky enough to have another baby, that would be great — if I'm blessed enough — but right now, three boys…that's a lot!"
Source: On-Air with Ryan Seacrest
— Anya