Red Sox's Dustin Pedroia Welcomes Son Dylan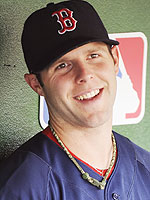 Mitchell Layton/Getty
It's a boy for Boston Red Sox second baseman Dustin Pedroia and wife Kelli!
Following a scary bout with preterm labor last month, Kelli delivered son Dylan Pedroia on Tuesday, August 18th. Baby boy — the first for the couple — weighed in at 7 pounds, and Dustin was able to be present for the birth after hopping a last-minute flight to Boston.
Dustin's teammate Kevin Youkilis was quick to voice his congratulations. "I think it's a great thing after all she's been through and Dustin's been through, mentally," the Red Sox first baseman said. "We always joke about dad strength, so hopefully he comes back and keeps hitting home runs. It'll be a great thing for him."
While manager Terry Francona is no doubt also hoping that the newest member of Red Sox Nation will translate into increased production from Dustin, he said there is no timetable for his return. "I told him his first responsibility is Kelli and that child," Terry explained. It is a sentiment which was echoed by Kevin, who added,
"We don't know when he's going to come back, and he can take his time, because having your first child, that's a great thing in life, and we're excited for him."
Sources: MLB.com, Providence Journal
Thanks to CBB readers Mary Beth, Maddy, Abby and Victoria.
— Missy