Kelly Rutherford Recalls Difficulty Nursing Hermés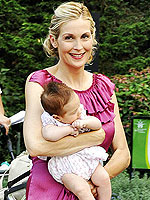 Neill J. Schutzer/Ramey
Although Kelly Rutherford went on to enjoy a lengthy nursing relationship with son Hermés Gustaf Daniel, 2 ½, things weren't always so easy. In a new interview with Best for Babes, the 40-year-old Gossip Girl star reveals that she had "every problem" imaginable during her first few weeks postpartum, including chafing so severe her toes would curl when Hermés would latch! "You've just had a baby, and you want everything to be perfect," she says. "You want to give your child everything you can, so I called everybody."  
Unfortunately, the advice she received was often either incorrect or off-the-mark. "One person told me the skin under the tongue might be too short and might have to be cut, and even though it freaked me out, I got it checked and ruled out," she explains. "And I had some woman tell me I had to pump because I was engorged, but I wasn't even that engorged, and I should have just breastfed him." Kelly goes on to recall,
"At the beginning you don't know, you're just so new, and everything is so overwhelming, and everyone is telling you something different, and your husband is sitting there looking at you, and he's trying to figure out how the pump works in the middle of the night, the whole thing is just cuckoo."
With the birth of daughter Helena Grace, 10 weeks, Kelly has benefited from the experience she gained with Hermés. She singles out putting baby to the breast immediately after delivery as the most important step in establishing a good breastfeeding relationship. Helena went "right on the boob" and Kelly says she's "had no problems" as a result. "It was a big difference from the first birth, with my son, which was a very long one, so they thought, let me rest a little bit, but then by the time I breastfed him it had been a few hours," she explains.
"With my daughter — obviously the doctor made sure that everything was okay — but I didn't do all of the procedures they recommend right away. I did the least amount that was necessary that was still healthy, so that my daughter would be able to latch right away."
Hermés and Helena are Kelly's children with estranged husband Daniel Giersch.
For more from this interview, including Kelly discussing tandem nursing and her best advice for a successful experience, visit Best For Babes.
— Missy