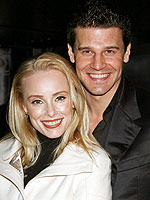 Baxter/ABACA
Ever since David Boreanaz let slip on Regis & Kelly Live in March that he and wife Jaime Bergman are expecting their second child, the Bones actor has clung close to home.
"Jaime's pregnant, we're doing construction at the house, and I'm just pulling my hair out," David, 40, tells PEOPLE. He and Jaime, wed since 2001, already have a 7-year-old son, Jaden Rayne.
Now there's the new arrival — a girl — to consider. With Jaime on bedrest for the majority of the pregnancy, David felt more comfortable staying near.
"I didn't go to Comic-Con because the baby was going to come at any minute," says the anxious father. "We're just waiting and waiting. It's nerve wracking, extremely, [but] I finally just decided that it's going to come when it's going to come."
In the meantime, "I must maintain a 20-mile radius. I cannot travel beyond that. If I do, I'll freak out — I have to be there when the baby comes."
Jaime is due on September 1st.
Source: PEOPLE
– Susan Young