Nancy Grace on Balancing Book and Babies: 'Working Moms Have It Hard!'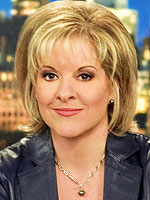 AP
During a recent appearance on Good Morning America to promote her new book The Eleventh Victim, former prosecutor Nancy Grace could not keep a glowing smile off her face. With host Robin Roberts noting that she was simply "beaming," Nancy admitted that while the publishing of her book brought her a great sense of accomplishment, her happiness is mostly due in part to her 21-month-old twins John David and Lucy Elizabeth.
Behind the smile, however, is a "labor of love," she says. Balancing the task of completing the novel with the demands of her family life has been no easy feat! "I started working on this book almost ten years ago and so much has happened since I first started it," she explains.
"Since then I published another book, launched a show on Headline News…got married, got pregnant, nearly died, didn't die, gave birth, and finished the book."
The book, a novel depicting a former prosecutor who must confront killers and corruption, is not a far stretch of Nancy's life, she notes. Although the main character in the book is a "much better person than I could ever hope to be," the 49-year-old admits that her life is often reflected in the story line, beginning with the heroine, Hailey. "I never dreamed that I'd have a family … I always wanted a little girl and I thought I would name her Hailey," she shares. "In the end I named her after my grandmother Lucy, but I thought when I started the book…I'd never have a child."
While Nancy never envisioned herself with children, after marrying David Linch she was dealt a new set of cards when the couple welcomed their babies. "Since I married and had the twins, my life is so full of love and joy and I feel like this book came out right at the time that my life is the happiest," she explains. That said, she warns future authors that finding time to finalize the manuscript can often be a struggle.
"I hear other people on TV talking about, 'Oh, I did it when I was on the treadmill.' That is BS! It was hard to finish that book; I would stay up until three or four in the morning … working moms have it hard!"
Click below to read about what comes between the twins — Mr. Potato Head!

The morning of the interview, as she was preparing to leave the house, Nancy laughs that her mothering skills were put to the test when Lucy and John began to squabble. The toy in question? Mr. Potato Head! "We have two, but it didn't matter," she shares. "It had to be that one — they like to stick the arm in the head!"
Already a strong child advocate, the day-to-day with her kids has stirred her emotions even more. "I can tell you that having … the twins has made me even more angry about crimes on children," she says.
"I can hardly swat one of them on the hand if they're hitting or doing something horrible, I just can't bring myself to make them cry…It's hard for me to believe someone could harm a child."
Source: Good Morning America
— Anya