Karolína Kurková Leaves Return to Modeling Open-Ended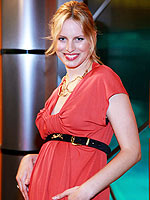 Charles Eshelman/FilmMagic
The catwalk will have to wait for Karolína Kurková. In a new interview with USA Today, the 25-year-old actress and supermodel says that she's in no rush to return to work after the upcoming birth of her son. "It's my first time," she notes. "I don't know what to expect."
"I'll go with the flow and see what it is. I want to create a bond with my baby and get my rhythm…I want to make sure I enjoy it. It's a special moment."
The pregnancy has flown by, and Karolína says there is still much work to do. "I have nothing ready, nothing is ordered," she admits. "But I still have time." One area in which she's definitely made headway is deciding on a name for baby boy, however — with a little unsolicited help from mom! "I want her involved, it's her first grandchild," Karolína notes. "She's like, 'What about Maximilian? Bruno? Sebastian? Hector? Guido?' I always tell her I'll put it on my list."
As for just how long that list is, Karolína remains coy.
"You'll find out when he's born. We've narrowed it down."
Baby-on-the-way — due this fall — will also be the first for Karolína's fiancé Archie Drury. Her new movie G.I. Joe: The Rise of Cobra is in theaters now.
Source: USA Today