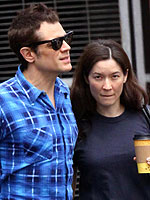 Flynet
Jackass daredevil Johnny Knoxville will soon be a father-of-two. The 38-year-old actor is expecting a baby with girlfriend Naomi Nelson, his rep confirms to Us Weekly.
Johnny writes on his blog:
It was reported today that my girlfriend Naomi Nelson and I are having a baby and I gotta say that's true. Woohoo!!! We have been together a few years now and felt it was time to start reproducing (if you know what I mean).

Anyway, we are excited as all hell, and can't wait 'til the little booger gets here. My daughter Madison has already started becoming a big sister, too, and is helping pick out clothes, strollers, and beds for her new little sister or brother.

Okay then, I just thought you should hear it from me that it is official. We got us one on the way!

Love,

Knoxville
Baby-on-the-way is due in late winter, and will join Johnny's daughter Madison, 13, from a previous marriage.
Source: Us Weekly; Jackass World