Céline Dion Expecting Second Child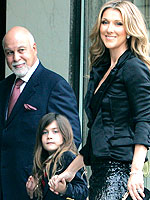 Thibault Camus/AP
Making good on her expressed desire to have more children, Céline Dion is pregnant.
A rep for the 41-year-old singer confirmed the news to various outlets saying, "Céline and René are very happy," and "They are crazy in love over the news … they are overjoyed." Céline is reportedly due in May.
A family friend also tells PEOPLE, "We learned this morning."
Herself the product of a family of 14, Céline only learned of her condition on Monday, reports Tuesday's Journal de Montreal, after she and her husband, René Angélil, 67, conceived with the help of a team of fertility doctors in New York.
The couple's one child together, son René-Charles, 8 ½, was born January 2001. The rep tells ET Canada he "starts his first day of private school today."
René also has three other children from two previous marriages.

According to reports in the French language press, Céline, whose concert tour ended in March, took time off this spring to concentrate on becoming a mother again. She also visited the clinic of Dr. Zev Rosenwaks, the Manhattan-based fertility expert who helped with the birth of René-Charles.
Quoting a previous interview the newspaper had conducted with René, the Journal reports that "everything hinges on the pregnancy" in terms of Céline's future professional plans – and that a pregnancy now could conceivably delay the singer's scheduled return to Las Vegas in fall 2010.
Source: PEOPLE
— Peter Mikelbank and Stephen M. Silverman