Milla Jovovich: Motherhood Has Allowed Me to 'Totally Relax'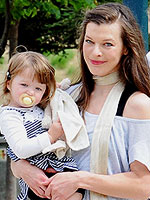 WENN
Never one to be able to sit back and relax, Milla Jovovich now finds herself taking a deep breath and enjoying what life has to offer. The reason behind her new perspective, she tells OK!, comes in the form of a 21-month-old baby girl, her daughter Ever Gabo. "Everything is about her and how she feels," she says. "If she's sleeping well and she's not crying and she's eating — well, I can totally relax, which is totally crazy because I never used to be able to relax before."
Noting that motherhood has helped the actress "adjust, chill out, and be happy when she's happy," Milla considers herself among the lucky few that take on the responsibilities of parenthood in stride.
"Ironically, having my daughter has made me relax more, which is really funny, because usually people get so stressed out when they have kids."
As for Ever's latest milestones, the proud mama notes that she is "talking up a storm," which, in turn, has allowed her strong personality — a trait inherited from Milla — to shine through! "She's like me times ten," the actress laughs. "She's so strong. Very aggressive. If she wants something she's going to let you know immediately."
To that end, Ever is equally passionate about life — much like her father Paul W.S. Anderson. However, Milla can't help but joke that her other characteristics from the proud papa's side of the family seemed to have bypassed the director all together!
"[Ever] is strong and willful. I know from his grandmother that there's a lot of really strong, vocal people on his side of the family…He's very sweet and kind and understanding. I think it skipped his generation and went to hers."
Ever is Milla's only child with Paul, with whom she plans to tie the knot on August 22nd! Her latest film, A Perfect Getaway, is now in theaters.
Source: OK!
— Anya