Jaime Bergman on Bed Rest: 'It Was Torture'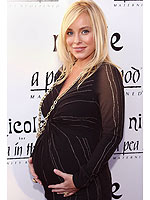 WENN
After enjoying a healthy pregnancy with her son, Jaime Bergman wasn't anticipating any surprises when she discovered she was expecting her second child with husband David Boreanaz. Following a preterm labor scare, however, Jaime was placed on strict bed rest by her doctor, with the order having since been lifted once she reached full term. "You would think it's the most amazing thing in the world, but it was torture," she says of her downtime.
"Mainly because of my 7-year-old [son Jaden Rayne]. He can't understand why I couldn't play and wanted to sit down. I read a lot of books, watched a lot of reality TV. I'm hooked, it's horrible. All of those Bravo Housewives shows … I've been on bed rest for three months, I think I've seen every single episode!"
Now that she finds herself back on her feet, Jaime is tying up loose ends in her daughter's nursery as she awaits baby girl's arrival. "Everything got delivered yesterday — the only thing I haven't done is the pictures in the nursery," she shares.
With her due date less than a month away, Jaime is determined not to be caught off guard by a likely early delivery. "I'm due the first of September, but they think she's coming early because she's so big," she explains.
Looking to give Jaden a sibling for some time now, Jaime and David are overjoyed that their family of three is expanding. "We've been trying to have another baby for a couple of years now so we are beyond excited," the mama-to-be says.
"We're over the moon."
— Anya with reporting by Lisa Ingrassia