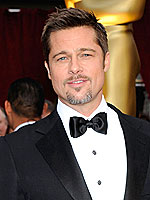 Limelight
Despite his late start into the world of parenthood, Brad Pitt never doubted he would one day be a father. First on the actor's agenda, however, was to experience life on his own. "When I go down a path, I take it to the end. Then I take another one," he tells PARADE. "I took the path of not having kids — now it's time for family." While children were not something he was initially seeking, Brad has now happily settled into the routine.
"Children are a dominant value in my life now, and they weren't before. They were always something I thought I'd get around to having when the time was right. In a way, I think I had to go and exhaust me before I could be good at being a parent."
Although thrilled to be a father, the addition of a family has not come without a price. When partner Angelina Jolie's mother passed away in 2007, Brad was suddenly faced with the reality of losing a loved one. "You have to recognize real love when it's there and know that in going after it, there is always a risk," he notes. "To live with love, you have to chance losing it. That's also true when you decide to have kids."
To that end, as each year passes, Brad finds himself appreciating quality time spent together as a family more and more. "As I've gotten older, I've become aware that time is fleeting. I don't want to waste whatever I have left," he muses.
"My real fear at this point is the safety and health of Angie and the kids. The fear of losing them is what keeps me up at night."
That said, Brad believes he wasn't past his prime to start a family. "I don't think I was all that late in becoming a father," he says. The proud papa laughs that he still has a few tricks up his sleeve and is always on hand to comfort his children. "Man, you just have to stay alert in case one of them has a problem, and then you need to find things to calm them down," he explains.
"I've discovered that classical music works as a great pacifier."
While Brad and Angelina are far off from having a quiet household, the couple wouldn't change their happy chaos for the world. "This family is full of life!" he gushes. "There are laughs, aggravations, irritations, but at the end of the day, it's fun." For the father of six, he says he is exactly where he wants to be. "I think this is the pinnacle. Even as I'm bound to this thing, in a way I'm freer than I've ever been."
Brad and Angie are parents to Maddox Chivan, 8, Pax Thien, 5 ½, Zahara Marley, 4 ½, Shiloh Nouvel, 3, and 1-year-old fraternal twins Knox Léon and Vivienne Marcheline.
Source: PARADE
– Anya